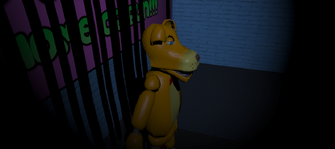 The Main Stage, also known as CAM 6, is a location on Floor 1 in The Night Shift: Iggy's Funhouse within Iggy's Funhouse. It is also the default focus of the camera.
This is where Iggy 2.0 starts.
Appearance
Edit
This area is completely dark, however, if the player holds down the button that says "Shine Light", it will light up the area. The Main Stage seems to be in a room which houses Iggy 2.0. There is a banner behind Iggy 2.0 that reads "Iggy's Funhouse! The Home of Fun!!!". The stage floor is grey and the walls are blue.
This area, along with the Parts Room are the only areas where there is a button to press, with the Main Stage having a light to see Iggy 2.0 and the Parts Room to enable the radio.
Iggy 2.0 can stare at the camera, but this is very rare.